Find The Mtn. in Your Area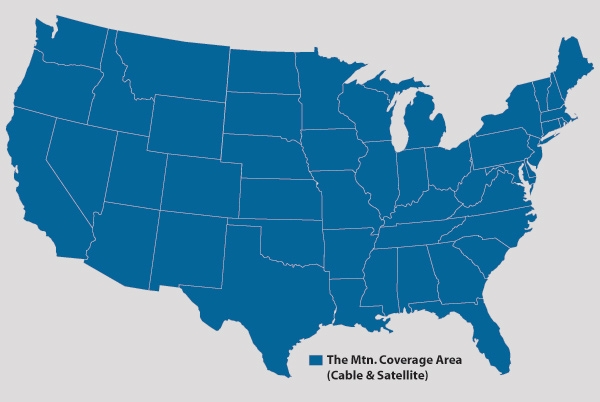 The Mtn. is available on many leading cable and satellite providers throughout the country.
The Mtn. is available nationwide on
DIRECTV channel 616
. The Mtn. is widely available on DIRECTV's CHOICE, and above packages to subscribers in cities and states servicing Mountain West institutions: Colorado, Idaho, New Mexico, Nevada, Utah, and Wyoming plus the markets of Dallas/Fort Worth and San Diego. Additional DIRECTV CHOICE package availability includes:
Albuquerque-Santa Fe service area in the state of Arizona
Cheyenne-Scottsbluff service area in the state of Nebraska
Denver service area in the states of Nebraska and South Dakota
Rapid City service area in the states of Montana, Nebraska, and South Dakota
Salt Lake City service area in the state of Idaho
Check with
DIRECTV
to find out if your programming package includes The Mtn. If you do not reside within the areas mentioned above, The Mtn. is available across the rest of the country with a subscription to DIRECTV's SPORTS PACK.
The Mtn. is also available to millions of viewers on leading cable systems throughout the United States, including Bresnan, Comcast XFINITY, Cox, Suddenlink and more. 28 states currently have cable service providers including The Mtn. in their programming lineups: Alabama, Arizona, Arkansas, California, Colorado, Connecticut, Florida, Georgia, Hawaii, Idaho, Illinois, Indiana, Kentucky, Louisiana, Maine, Massachusetts, Michigan, Mississippi, Nevada, New Hampshire, New Mexico, New York, South Carolina, Tennessee, Texas, Utah, Vermont and Wyoming. Use the channel finder below to see which company provides service in your area.
What's New?
• Service launch on CenturyLink in Las Vegas & Henderson, NV effective 12.23.11 - service can be found on channel 684.
Select programming is also carried worldwide to American servicemen and servicewomen on American Forces Network (AFN).