FB: Recruiting Roundup 2011
<!- START SINGLE BAR -->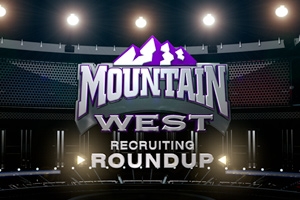 <!- END SINGLE BAR -->
<!- END SINGLE BAR -->
<!- END SINGLE BAR -->
<!- END SINGLE BAR -->
<!- END SINGLE BAR -->
<!- END SINGLE BAR -->
<!- END SINGLE BAR -->
<!- END SINGLE BAR -->
Click below for team-specific coverage:
By Mark Knudson, The Mtn. Insider
February 2, 2011
Check back in four years…
It's LOI day around college football…a time for coaches to celebrate the end of a series of long journeys and the start of the only real break they'll have for most of the year. Time to squeeze in that vacation and a few rounds of golf before the start of spring football. 
On this day, every coach will celebrate what he believes is a great class of incoming freshman. Indeed, everyone is #1 this day. 
Only time will tell how successful each team actually was during this recruiting cycle. A lot will change between now and the BCS title game in 2015. Who will make a mark, and who will be a bust? No way to tell right now, so take note of some of these names and we'll look back four years from now to see who scored and who punted. 
According to the recruiting services, the highest ranked incoming freshman in the MWC for next fall is wide receiver (or maybe DB)
LaDarius Brown
from Waxahachie, Texas. Brown will be a TCU Horned Frog next season (and presumably after that) and is one of three highly rated pass catchers the Frogs are bringing in, along with
Brandon Carter
from Euless, Texas and
Cameron White
from DeSoto, Texas. With Jeremy Kurley moving to the NFL, we could see any or all three on the field next fall. After that, of course, fans of the MWC will be forgiven for losing track of these guys when they step down to the Big Least Conference. 
A guy with big shoes to fill could be Boise State's incoming freshman quarterback
Jimmy Laughrea
from Rocklin, California. Kellen Moore will be a Heisman front runner next fall, but after that, it could be Laughrea's team to run. Will he be up to the task? And how about the Broncos bringing in defensive back
Taylor Loffler
…who will be moving SOUTH to Boise from British Columbia. He might end up being a great story. 
San Diego State lost their head coach, but they've been in on several highly rated prospects this year. They went down to the last day before losing out on three prized prospects. The Aztecs did land
Chad Jefferies
, who might be the next big time QB on Montezuma's Mesa. He's got a strong arm and good feet for a 6' 3" pocket passer. He will get a chance to throw to fellow Californian's
Jemond Hazely
and
Sam Meredith
.   
Dorian Brown
from Loveland, Colorado blew out his ACL on the first play of his senior season, but that didn't dissuade Colorado State from inking the highly touted running back. Brown signed and enrolled early at CSU, and his rehab is on schedule. Defensive end
Joe Kawulok
will join his brother in Fort Collins, and Texas product
Isiah Norton
is being brought in to help along the defensive front. 
Life is certainly different for Air Force recruits. You can't call a guy a bust if he ends up struggling on the football field but becomes an Air Force Officer. Wide receiver prospect
Christian Gann
and Linebacker
Connor Healy,
both from suburban Denver, will try to excel on the field AND in the military. 
With no experience returning under center at Wyoming, it would not be a shock to see touted quarterback prospect
Adam Pittser
from Richmond, Illinois get a shot to play early. 
Bobby Hauck isn't bringing in a huge class in terms of numbers at UNLV, but he is getting highly sought Junior College middle linebacker
Princeton Jackson
to shore up his defense almost immediately. Jackson is a product of Blinn JC – the same school that produced Cam Newton. Cornerback
Fred Wilson
from Bakersfield will be expected to help, too. 
Offensive lineman Cyrus Kouandjijo was rated as the third or fourth best overall prospect IN AMERICA, and he had New Mexico on his short list. Alas, the Lobos lost him to Auburn, but did land touted Juco O lineman
Korian Chambers
from Yuma, Arizona, and defensive back
Destry Berry
from Erie JC in New York. Gotta salute Mike Locksley and his staff for aiming high. 
Who amongst these guys will become stars and who will we never write about ever again? Only time will tell.
---
Read all of Mark Knudson's blog entries
HERE
.